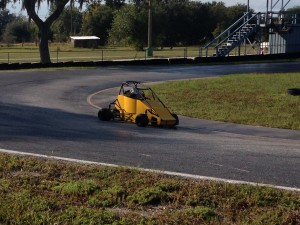 Quarter Midget racing is a form of automobile racing.
Quarter Midgets have been around in one form or another since before World War II. The cars are approximately one quarter (1/4) the size of a full size midget car. The drivers are typically restricted to ages 5 to 16.
Tracks are typically banked ovals 1/20th of a mile long, and have a surface of dirt, concrete, or asphalt; the Ambassador Racing School Track is considered a Super 'Speedway' when compared to a typical Quarter Midget track.
Unlike racing karts, there is a suspension package making it a more comfortable drive for the younger racers. There are many brands of manufactured cars as well as custom cars made by individuals; the 'Excellerator' Chassis by 'JRG3' for example has won a number of Championship races over the years.
The ¼ scaled race car chassis are made of 'chrome molly' steel tube. Quarter Midgets are powered by Honda 120 & 160 engines, also used in Quarter Midget Competitions are the Briggs & Stratton brand engines. The Animal & World Formula, the World Formula is at the top of the ladder for the more experienced drivers and can reach speeds that are often faster than racing karts.
Quarter Midget Racing provides a strong foundation for those that will desire to move into full size race vehicle such as the 'Pro-Trucks' which has become an extremely popular series in Florida…
There is more to Quarter Midget racing than meets the eye; one should always seek the advice of a reputable, experienced, and professional motorsports team and attempt to speak with the Crew Chief or race driver before making a final decision prior to purchasing.
Ambassador Racing School has produced hundreds of professional driver's who race at various levels and in various forms of racing, some having started in Quarter Midget Racing at Ambassador. Paddy Rodenbeck of Odessa, Florida, who has joined the ranks of other NASCAR Drivers that also started their development in quarter midget racing. Many of today's most recognizable names in racing got their start in quarter midgets including; A.J. Foyt, Jeff Gordon, Sarah Fisher, Jimmy Vasser, Joey Logano, Brad Keselowski, Terry Labonte, and Bobby Labonte to name a few…
How to get into Racing Quarter Midget Race Cars
Be a fan